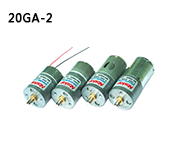 Gear Reduction Ratio

Series

1

46.9

103.1

226.8

498.9




Series

2

35.5

78.1

171.8

377.9




Series

3

26.9

59.2

130.1

286.3

Gearbox Length (L)

21

23

25

27
BriefIntroduction:
This is a series of motors based on the round, complete sealed gearbox of OD 25mm. Gearbox length can be increased or decreased according to different gear reduction ratio. Motor can be any type but most popular motors are those that the diameter is approx. 25mm. Gearbox spindle outputs from the centre of the gearbox.
Main aplication :
Safe box, storage box, robot, measuring instrument, intelligent water meter, advertising equipment, automatic window curtain, audio equipment, medical instrument, healthful equipment, perfume sprayer, electronic game machine, etc.

Specifications
Serial No.

Model

Rated

Voltage

No Load

At Maximum Efficiency

Stall

Speed

Current

Speed

Torque

Current

Output

Torque

Current

V

rpm

mA

rpm

Kgcm

A

W

Kgcm

A

25GA280

18160-78.1

9

110

120

65

5

1

3.3

12

3

18160-103

12

110

150

88

2

0.36

1.8

10

3

18160-226

12

48

150

37

6

0.5

2.2

24

3

20141-226

9

40

130

26

14

1.2

3.7

25

1.8

14210-21.3

18

650

100

535

0.7

0.45

4

4.2

2

20141-171.8

9

52

130

45

0.7

5

2.3

22

2.5

25GA370

15280-46.9

12

155

45

135

0.8

0.2

1.1

6

1.5

15280-103

12

70

45

56

1.5

0.3

0.9

14

1.5

15280-226

12

30

45

25

6

0.35

1.5

20

1.5

12560-226

12

18

30

15

3

0.1

0.46

15

0.5

12560-378

12

10.5

30

8.5

5

0.12

0.45

18

0.5

12560-500

12

8

30

6.5

6

0.15

0.4

20

0.5

22170-46.9

6

130

70

110

0.75

0.3

0.86

5

2

22170-103

6

55

70

42

1.5

0.33

0.65

6

2

22170-226

6

26

70

18

3

0.32

0.56

18

2

22170-378

6

15

70

12.5

5

0.32

0.64

26

2

22170-500

6

12

70

10

3

0.16

0.33

35

2

48012-130

24

40

20

32

2.5

0.07

0.8

13

0.35