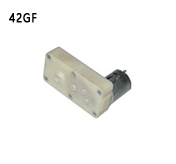 BriefIntroduction:
This is a series of motors based on the rectangle shape, complete sealed gearbox with mounting holes distance to be 31.6mm. Gearbox thickness is fixed. Motor can be any type but most popular motors are those that the diameter is approx. ?28mm. Gearbox spindle has a key-way for fixing a rotating subject.
Main aplication :
Automatic window curtain, Sunshade, etc.
Gear reduction ratio can be 1:252.
Specifications Of Some TypicalModels:
Serial

No.

MODEL

Rated

Voltage

No Load

At Rated Torque

Max. Torque Permitted

Speed

Current

Speed

Torque

Current

Output

V

rpm

mA

rpm

gcm

mA

mW

Kgcm

42GF360

14295-252

12

23

140

21

*5.0

250

1.0

30

2650-252

12

52

310

46

*18.0

1300

8.5