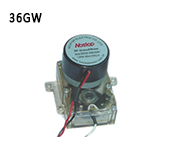 BriefIntroduction:
This is a series of motors based on the rectangle shape, complete sealed gearbox. Gearbox thickness is fixed. Motor can be any type but most popular motors are those that the diameter is approx. ?32mm. Gearbox spindle has a key-way for fixing a rotating subject. Switch(s), cam are equipped inside of the gearbox. All the gears are metal and hardened for rusty-proof.
Main aplication :
Specialized for 8, 15, 20 and 25 caliber intelligent water meter.
Gear reduction ratio can be 1:252.
Specifications Of Some TypicalModels:
Serial

No.

Model

Rated

Voltage

No Load

At Rated Torque

Max. Torque Permitted

Speed

Current

Speed

Torque

Current

Output

V

rpm

mA

rpm

kgcm

mA

mW

Kgcm

36GW300

11400-1960

3

1.7

40

1.5

*3.0

50

46

30

36GW500

28180-2000

3

1.4

50

1.3

*3.0

65

40

60

1.2

*6.0

85

75