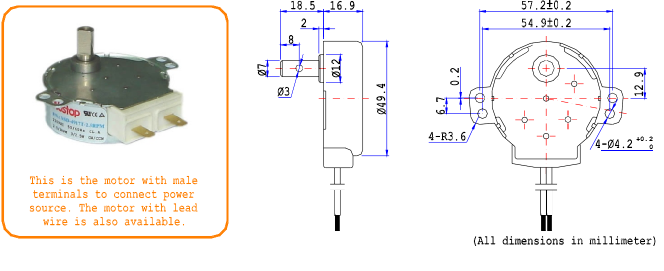 Main aplication :
1)Mainly used for Mainly used for Air-conditioner (turning leaf), or Micro-wave Turning Plate, etc.
2)Also used for electric fan, quartz heater, turning TV antenna, stage turning lamp, turning electric table, turning electric model, turning electric advertisement, turning goods shelves, dish washer, rtc which needs low speed turning for life and low noise.
Main Features:
1)Shaft diameter is: 7:0mm.Shaft length and shape can be any as customers needs.
2) Motor rotation: freely (sometimes in CW direction, sometimes in CCW direction. It is decided by the motor itself). But if the customer needs the motor to run just in 1 direction (such as CW or CCw we can add a directional plate. In this case, the motor rotation is directional but irreversible.
3)Low lifetime (more than 8000 hours), low noise [less than 42dB(A)], stable running.
4)CE, UL, TUV approved.
with 908 more torque Please see the details as following chart.
5)E. UL, TUV approved.
Characteristics (test under room temperature):
Rated Voltage
(VAC)
12-240 (can be any as needed)
Rated Frequency
(Hz)
50 or 60 or 50/60
Input power
(W)
<=4.0 (@ 50Hz) or <=3.5 (@ 60Hz)
Input Courrent
(mA)
<=30 (@ 50Hz) or <=20 (@ 60Hz)
Starting Voltage
(VAC)
<=85% of rated voltage
Insulation Class


E (or any as needed)
Rated Speed
@ 50Hz
(rpm)
1.67
2
2.5
4.1
5
15
33
46
Rated Torque @ 50Hz
@60Hz
(rpm)
900
2.4
3
5
6
18
40
55
By Use Permanent Pagnet
(mNm)
5.88
800
700
400
350
100
53
38
(Kgf.cm)
7.85
8.16
7.14
4.08
3.57
1.02
0.54
0.39