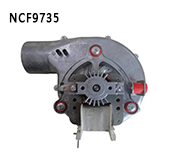 1. It's mainly used for gas boiler, fuel boiler, pellet stove, water boiler, home air-pipe, etc. The input power can be adjusted during 25~65W.
2. The air-housing can be made of die-cast aluminium or galvanized steel, the fan wheel can be made of sheet aluminium or galvanized steel, and the motor can be of shaded pole type, capacitor type, or brushless one.
3. Long lifetime, low noise, stable running & withstand high temperature.
Class 180 (H) insulation, ambient temperature permits 250°C.